CDQ Furnace Electro-vibrating Feeder
What is CDQ furnace electro-vibrating feeder?
CDQ furnace electro-vibrating feeder is CDQ furnace electromagnetic vibrating feeder, which is a quantitative discharge device of the coke. By adjusting its amplitude and the exciting current magnitude, it can control thereby the discharge amount of the coke. The compensator connected to the lower part of plate gate is to receive the cooling coke from the CDQ furnace and then evenly discharged it. The amplitude and temperature detector is set in the feeder.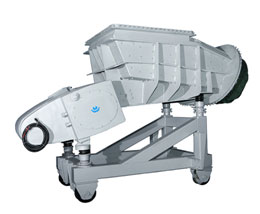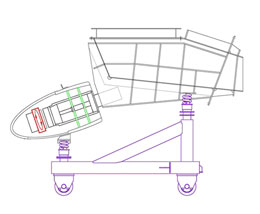 Function of CDQ furnace electro-vibrating feeder
The dynamical system of the CDQ discharge system is installed at the bottom of the cooling section of the CDQ furnace, which is to continuously discharge the cooling coke. In the discharging process, under the vibration of the feeder, the cooling coke is continuously discharged in a quantitative way and flow into rotary sealing valve. And then the coke discharged by rotary sealing valve will be sent to coke screening building through the belt conveyor.
Advantages of CDQ furnace electro-vibrating feeder
Magnetic force converted from electric power is used to generate driving force to transmit the material. Compared with other feeding equipments, the feeder is characteristic of high frequency, small amplitude and instantaneous adjustment of discharging amount without abrasion, lubrication, contact and grade.
No rotating parts; with favorable sealing performance; material tank has passed air tightness test.
Low maintenance cost; no daily maintenance during the production; only to check the equipment operation during annual maintenance of the CDQ furnace.
Simple structure, easy operation, no lubrication, lower power consumption, convenient installation and maintenance, and controlled quantitative discharge.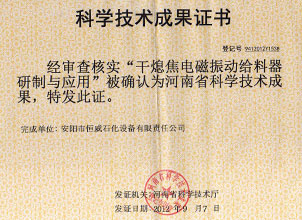 Scientific and Technological Achievements Certificate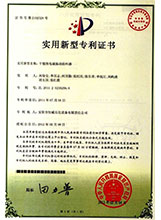 The Application of a New Patent Certificate
Working principle of CDQ furnace electro-vibrating feeder
Based on mechanical resonance principle, the electromagnetic vibration feeder is to make double masses work in the sub-resonance state. After the half-wave rectification of silicon controlled rectifier (SCR), there is the current in the coil going through in the positive half wave, and the core will generate a pulsed electromagnetic force to pick up the armature and move the tank backwards and then bring the deformed plate spring a certain potential energy storage; there is no current going through in the negative half wave, and the electromagnetic force will disappear, the potential energy of plate spring will release as well, so the tank will be moved forwards. The feeder makes the reciprocating motion at the frequency of 50Hz so that the coke has to be done the throwing movement in the tank with the inclined angles. The discharge amount of the coke is controlled by adjusting the current.
Structure of CDQ furnace electro-vibrating feeder
Electromagnetic vibrating feeder consists of the following main components: vibrating source, material tank, supporting carriage, control cabinet, guide tank.